most of you will not be shocked by this news. i have a lot of male friends. i always have. in high school, many of my closest friends were guys.
perhaps it's because i'm not a typical girly-girl. yes, i like to shop for hours and i enjoy celebrity gossip and i like to bake, but in most instances, i'm less girly than most of my friends. i like movies where shit gets blown up. i'd rather watch someone die by falling off a cliff than die by cancer. i like Dane Cook, and Borat, and South Park and Jackass. i prefer beer and scotch to anything fruity or blended. i like gadgets and electronics – when i get the ads in the paper on thursday, i'm going straight for the best buy ad. i like cars. i like sports. a lot. and i can sit and talk about jessica biel's ass for hours.
so…you can imagine i was a little nervous when Tova wanted to have a cocktail party. i had visions of cosmos and dacquiris dancing in my head. (where was the beer?? i can do beer!) but, Tova is one of my besties, and far be it for me not to participate. She got very excited – bought out the liquor store. seriously, her husband had to bring half of it back! she got some books – mixed-drinks for dummies types – and got to work. mojitos. bloody brains. chocolate eruptions (not the name, exactly…that's from Goonies…but something close to it). We had a blast.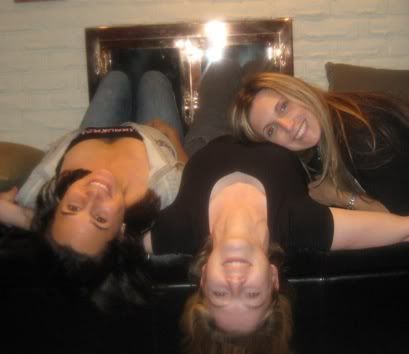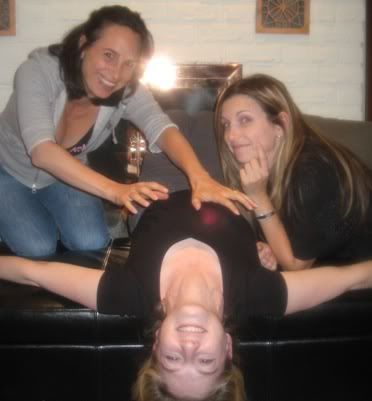 i did realize one thing, though. when it comes to girly drinks…i'm all girl.
3 1/2 drinks later and this was me: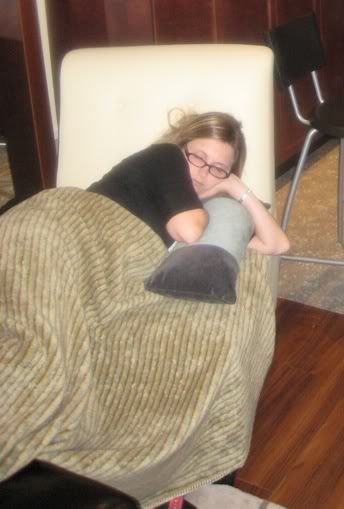 passed out. asleep. on Tova's chair.
which, i guess, is better than the husband. who spent his evening in the bathroom, puking.