i love ebay. i'll even go as far as to say that i'm an ebay addict. and i'm really not all that ashamed to admit it.
(well, not all that ashamed until i have to tell you that at times i am forced to take breaks to help with the addiction problem. okay…seriously…it's not like i'm shooting heroin, i'm buying lululemon pants.)
you think that something as simple as buying something on ebay would be…well, simple. but, it's not. you have to know that value of the product you are buying. you don't want to end up in a bidding war over said pants and pay more than you can get them at the mall. if that happens, you will win your item, but you end up feeling (and looking) like an ass. not that this has happened to me or anything…
i haven't ever bought anything outrageous – it's not like i bid on the infamous Virgin Mary Grilled Cheese. no. i've bought lululemons. ipods. vintage cabbage patch kids. dvds. girl scout cookies. timbuk2 bags. spanx. oh yes, i'm wild. i did once win an ipod and got sent a pair of earphones. yes, that was good times.
i've sold a couple things too. my first digital camera (snagged me over $100. US). a coach purse. but now i look at all items in my house and i think…"how much would this get me on ebay" There's always some chump out there who is willing to buy your shit. think about it. it's not just the grilled cheese and the jesus toast or even the jesus-in-a-pancake that pulls in the top bids on ebay.
did you know that someone bought "the meaning of life" (the actual meaning of life…NOT the monty python movie) for a mere $3.26 (after an astounding 8 bids?!!). and did you see the Ghost in a Jar??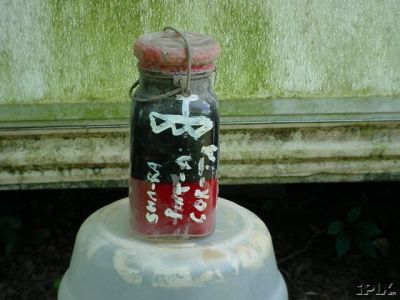 and there was that loser guy who bought item #127658711 – which was none other than the fingernails of serial killer Roy Norris. They sold for $9.99.
i'm thinking that if i can buy a fake doctor's note, the state of Virginia, and twin strawberries…
there's got to be someone who wants to buy my empty coffee cup. it may not be a winner…but i'll sell it to you…real cheap!!