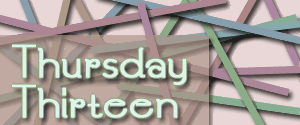 Well, since my little trip to the drive-in this week where i saw Blades of Glory in all of its..erm…glory, and since i fully agree with Haley-O…Will Farrell truly is comedic gold (but not hot…just fuckin' funny), i'm on a comedy kick. now, i have to say…picking only 13 was really tough. and picking only 13 quotes was even tougher. what are some of your favorite funny movies and better yet…what are your favorite quotes from 'em?
(i know, i know…some of you are waiting for the hottest females on tv right now…but you'll have to be patient. it's coming next week!! I couldn't get access to my work email at home last night…anyway, long boring story short…come back next week…)
1. Old School
"Alright, let me be the first to say congratulations to then. You get one vagina for the rest of your life. Real smart Frank. Way to work it through."
2. Major League
"You may run like Hayes. but you hit like shit. "
3. The Big Lebowski
"It's like what Lenin said… you look for the person who will benefit, and, uh, uh… "
"I am the walrus."
"You know what I'm trying to say… "
"I am the walrus."
"Shut the fuck up, Donny! V.I. Lenin. Vladimir Ilyich Ulyanov!"
"What the fuck is he talking about, Dude?"
4. Airplane!
"This fog is getting thicker."
"And Leon is getting laaaaarrrrrger."
5. A Fish Called Wanda
"We didn't lose Vietnam. It was a tie!"
6. Tommy Boy
"Does this suit make me look fat?"
"No, your face does. "
7. Austin Powers in Goldmember
"Are you a clone of an angel? "
"Ohhh how sweet. No, my mini-man, I'm not."
"Are you sure you don't have a little clone in you?"
"Yes I'm sure."
"Would you like to?"
8. There's Something About Mary
"What, you think yer shit don't stink?"
"No, I don't think, I mean, yes it does, no I don't… "
9. Wedding Crashers
"Well, the guy wants to run for president, he thinks Moby Dick is a venereal disease. "
10. Ace Ventura: Pet Detective
"I'm looking for Ray Finkle."
[a shotgun cocks and is pointed at his head]
"…and a clean pair of shorts."
11. Soapdish
"She has more lines than I do and she's a GOD DAMN MUTE!"
12. Caddyshack
"A flute without holes, is not a flute. A donut without a hole, is a Danish."
13. Happy Gilmore
"I eat pieces of shit like you for breakfast. "
"You eat pieces of shit for breakfast?"