the only thing Isabella is more attached to than her precious Diego are her pacis. ("papis!") and now, one is no longer good enough. when i put her in her crib at night i give her the paci and she promptly answers back all cutesy "odder paci. peese!" how can i say no to that???
we try to use it only at bedtime and in the car. but, it doesn't always work.
sometimes i look at other babies with pacis and i think…wow, those parents are such chumps! or wow, that baby is way too old to have a pacfier! but…what i'm really thinking is wow, we need a support group for parents who can't take the pacifier away. i just can't do it. i managed to have two other children. i took their pacis away. i took their bottles away. but this time…it's different. it's my baby bella.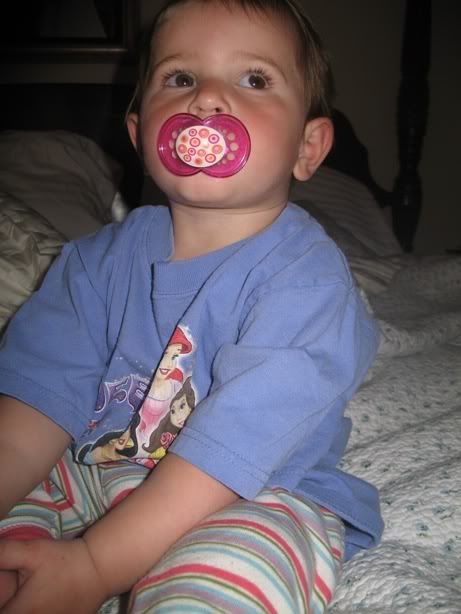 how could you take it away from a child this cute?
I once told Beth that for me, the pacifier, this little piece of the plastic, is the difference between having and angel child and a devil child. i'm so not even kidding, either. when i try to take it away…she's whiny and scream-y and generally unhappy. she won't sleep. she won't eat. and did i mention the screaming? and the whining? and i'm fairly certain i've seen her channel her inner Linda Blair. when she has her paci – – – it doesn't even need to be in her mouth, just in her hand, she's delightful. a pure joy. she's happy. she's content. and there's no screaming. and there's no head-turning or pea soup spitting either, which is always a plus.
i don't know about you…but it's just not worth it.
it doesn't stop me from trying, though.
***oh, and by the way, this post was sort-of meant to be tongue-in-cheek-y. i'm not looking for advice. or judgement. i just think it's funny that with my first two kids these little things like pacis and bottles were easy to take away…but with Isabella i'm a super softie. maybe it's because she's my last.
she will not get married still sucking a pacifier or drinking from bottles (well, at least not those kind of bottles. bwah!
she's not even 2 years old people!!! relax!