As usual, my weekend was jam packed. lots of park time (the sun finally came out in Toronto..and all three of my kids already have tans), lots of mall time (they need everything! shorts! hats! sandals!), lots of purging time (otherwise known as spring cleaning).
i also went to my very first drive-in.
the only experience i have with drive-ins looks a little bit like this: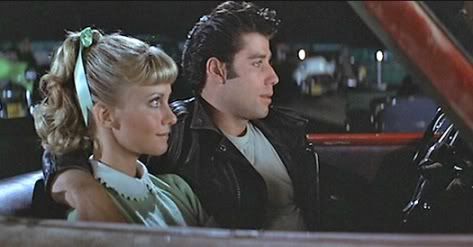 no, i'm not kidding. i fully expected to see swings and ads about dancing hot dogs and buns and other concessions. to me, it's all about the sideburns and the boob-grabbing.
instead, i got to see Will Farrell and Napoleon Dynamite spend a lot of time in tights, blading each other in their…erm twin dongs. yes, folks, we went to see Blades of Glory last night. and it was good times, i tell you, good times.
it was actually so much better than i thought it was going to be. i don't know if it was the company (Fry and Tova) or if it was the whole experience…but at certain points i was laughing so hard i was crying. Will Farrell's delivery is just…well, perfect.
it was a double-feature and i don't even remember what the second movie was. some B-rate horror movie…Disturbia, perhaps?? and after watching more than half of When a Stranger Calls over the weekend (serously…that's an hour of my life i will never get back) and seeing how shitty horror movies are these days…i was really not all that interested in staying to watch. and either was anyone else, it seemed.