we have a situation as casa de martell.  a humpty dumpty situation.
y'all already know the story. dude sat on a wall. he had a great fall. and pretty much no one could get the stinkin' egg back to together again.
it's not the most exciting story, i know. but it is the reason that our daughter sleeps no more. and no longer plays by herself in her room.
she's afraid of her room. because, apparently, humpty dumpty lives in there. Remember when we came back from St. Lucia and she wouldn't sleep? and i was convinced she was punishing me? Well, it turns out that i'm a way worse mother than i thought. she wasn't punishing me. she was crying for help.
help from him.
(okay…maybe she's right….he does look kinda, erm, clown-like and creepy)
we've tried everything. we've brought in the fantastic nurseryrhyme-busters (aka mommy and daddy) to come in and comb the place for unwanted imaginary characters.  we've gotten her British grandparents to come in and tell her not to be silly….humpty dumpty is British, of course, and lives in London. far, far, far away from Canada. we've removed all the books that have any trace of humpty dumpty in them.
and she bought it. she slept beautifully at night. "There's no humpty dumpty in my room!"
hallelujah.
until her ever-so-kind older brother pointed this out: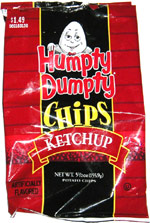 and now she won't sleep any more.
or eat potato chips.
great.