Isabella has very particular taste in bedtime stories. We went through an all- Dora, all-the-time stage. and then a Jillian Jiggs stage. and then it was Sadie and the Snowman only please. now, she's hooked on another book.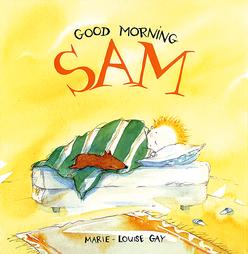 dear god, does she adore the ever-loving crap out of this book. to the point where she's adopted this phrase "oof, said Sam" that she says. all. the. time. if she falls down, she says, "oof [pregnant pause] said sam. i'm okay" if she's trying to lift something heavy, she says "off, said sam. it's heavy" when i'm hoisting her little bum onto the toilet at 2am, she'll say, half-asleep, "oof, said sam" and then collapse on my shoulder while she does her business.
can i just tell you how hilarious she is these days?
speaking of hilarious (yikes…worst. segue. ever.)
do you have a morning ritual? mine is very simple. attempt to leave the house by 7:30. usually leave around 7:42. stop at Tim Horton's for a coffee. arrive at work. 8:06, usually. (what? i'm a creature of habit) recently, i started listening to the edge on my way in to work. to the Dean Blundell show. i cannot believe that i'd never even heard of them before. a-freakin-mazing. i swear. i laugh my ass off. (oh, if only losing weight were that easy. the incredible laughing diet!) anyway, today they were talking about a sport called Ringette.
have any of you ever even heard of this?
i mean, when you marry a Canadian, you marry a hockey player. you learn about pick-up games, and leagues, and subbing into games, and playing 1, 2, 3, 4 times a week. you learn about good sticks vs. shit sticks. and injuries (we're not even going to talk about the second surgery the husband is having due to hockey) the equipment. the storage solution for stinky gear (read: not in the trunk of your van)
but i have never, ever heard of such a sport. it almost looks like hockey…only with a little rubber donut dog-toy instead of a puck. and look at the sticks – i guess now i know what we can do with all the husband's broken sticks!!!
this will keep me laughing all day. i'm dying. i mean, are there other sports out there like this???