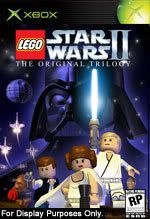 I've officially lost my husband.
Sure, I've lost him before. to FIFA. and Halo. and NHL. and Call of Duty. and Full Auto. I've giggled while he sat on our bed, talking to his friends on his little headset, plotting to take over the planet. I've laughed while he turned his entire body into his moves, as if moving his body in real life would help him move his body on  screen.
but this? this is something new. this is something…slightly…well, slightly embarassing. I can't quite put my finger on which aspect of this game I want to harrass him about more: the fact that it's a STAR WARS game. or the fact that it's a LEGO game. and he's 31 years old.
The upside to us having this game is that the kids LOVE it. and they are good at it. and it's the one thing that they do together. and if you know anything about my older two it's that they don't.do.anything.together.
I had hesitations early on about him getting the Xbox 360. At least with his Nintendo 64 there were games that we liked to play together. i don't do sports games (i don't have the proper hand-eye coordination). and i don't do the man walking around with a gun game (i.e., goldeneye 007. they make me queasy). but i enjoyed Mario Kart, and Mario Party, and i loved me some Bust a Move.
but alas, the XBOX is the husband's, and the husband's alone. sure, i use it for all the other things that it's good for (i can plug my ipod into it!! awesome. i can see all my pictures that are on my computer on it! cool beans. i can watch dvds in it! aces.)
but, there are no games on it that i even want to play. all i want is an old school nintendo – with mario and luigi and zelda and kid icarus – is that too much to ask???!!).
and i'm certainly not having anything to do with this star wars lego thing.