Thursday – 6:30 pm: (we were aces. kids were pajama'd and happy and Isabella had her "dah-rah")
Monday – 12 midnight: (sleep…bliss)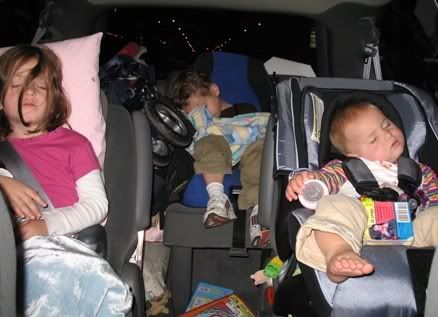 all in all? trip was great.
i didn't fight with my mother. not even once, y'all. must be some sort of record.
(i did argue, though, when she said that my eyes were grey/hazel. what? i know the exact shade of each of my children's eyes and can tell you that even though all three are brownies, all three have distinct eyes. and mine? are GREEN. they are about as green as they come. my mother is mental.)
okay…also….note to self…never watch movies like "wedding crashers" with my mother.
Isabella didn't sleep. the entire trip. because of these massive two front teeth that have erupted in her mouth. she's in so much pain, gnawing on anything in sight…including a couple of Emily's crayons. poor kid. and poor us. we are tired.
i didn't do much shopping. partly because the kids wouldn't allow it, and partly because the bank account wouldn't allow it. i did get myself 20 minutes in target (which is not even close to being enough – but it was better than nothing), 20 minutes in the gymboree outlet, 20 minutes in michaels (to use a gift card that was only usable in the states) and 10 minutes in bath and body works.
we borrowed a friend's GPS, which was really, really cool. seriously, we wanted to find a target. so, we just plugged in, "target" and it finds the closest, like, 200 targets. you push one and it adds it to your trip. and Dennis, the Brit, tells you exactly how to get there. at least i think his name was Dennis. he was the voice of choice – over the Australian and the American. (but, disappointingly, he sounded nothing like Jude Law). want a starbucks? no problem. it finds it for you. want to know approximately when you'll arrive at your destination? it was spot on – give or take 2-3 minutes every time. genious. i want one. (unfortunately, i don't have the $700 to buy one…and it's probably not worth it for the two times a year we'll be taking road trips. but, seriously, seriously awesome).
i DO have a story to tell. i'm slightly embarrassed to be writing this down, for all of you to see…but if you can't tell your internets…who can you tell? (for the record…as soon as it happened, both the husband and i said, at the same time, this is sooo being blogged). a little background, maestro. I drank a ginormous coffee. (mcdonalds – i'd never had it before. quite good. not enough sweetener. but that's the husband's fault.) and didn't eat anything. and i started to feel sick. and i was driving. so i drank two water bottles. and then i felt better. but then i had to pee. really, really badly.
only problem was that at the time i had to pee really, really badly, we were in a 400 car-long line at the border. there was no shoulder to pull to the side to. no place to go. can you see where this story is headed…
yessiry. i peed in my empty mcdonalds coffee cup. it was THAT bad. it got to the point where it was either that or the floor of my van. this officially takes the top spot in my most embarrassing stories (totally beats out the "sweet the lick" story and the time i put my ass through Jack and Ilana's dining room chair.) at least it was dark. and no one saw. and my kids seem to be oblivious.
at the end of the day, we would drive again. (but i will NEVER, under any circumstances, drink Mcdonald's coffee again)
**come over and see me at my other site, Fabulous, where i post pictures of my kiddies at the fire station. they can kick Daniel Cook's ass any day of the week and twice on sundays. 🙂