so…our husbands decided to surprise us on Wednesday night and NOT tell us where we were going. if any of you have ever met me or Sharon, you'd know that this idea was NOT the wisest. We both control freaks and not knowing where we were going…and why we were told to wear running shoes (gym shoes? tennis shoes? sneakers? runners? what do you call 'em?)…was just about killing us. trampolining? (sharon's guess) rock climbing? (Shana's guess) paintball? (my guess).
nope. we were all wrong.
CURLING.
could you die? is there anything more Canadian than that? I was completely unprepared…i wouldn't have worn low-slung jeans that showed my crack off to the entire Richmond Hill Curling Club…and i would have warn warmer clothes. i had very cold toes, fingers and nose. but, it was SO MUCH FUN. we really had a great time.
ETA. i've never been curling before. i've never even considered it. it's not something anyone i know does on a regular basis or has even ever done. that's why it was hilarious. because we never would have expected this! bowling sure. skating, even. but curling??? i've only seen it on tv!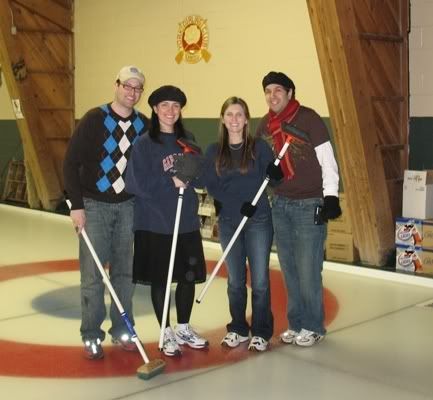 this is me. falling flat on my ass. class-y.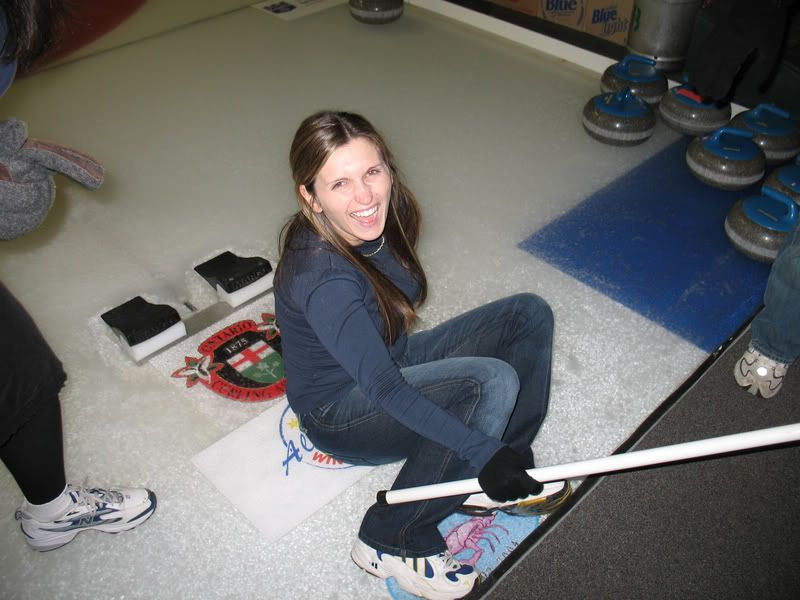 look at me…pretending i'm all professional and stuff…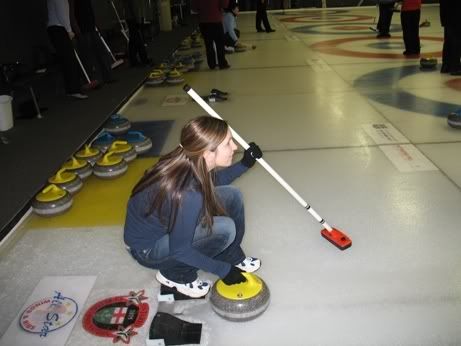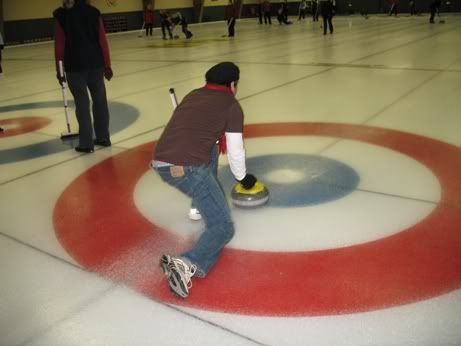 Grey's Anatomy
~ i know i'm in the minority here…but i don't want this alex/addison thing to happen. i would so much prefer them to have some sexual tension and NOT get it on. there's far too much passing around of partners on this show.
~ so…obviously Izzy pays for this girl's surgery. (anyone recognize her? anyone? she played the ADORABLE little girl in when a man loves a woman. AND she was Christine Lahti's daughter on Chicago Hope..just a bit of trivia there. ) which is all well and good. Izzy makes good use of her money….and i'm glad she finally deposited it and all…but the scene at the bank…way too over the top for me?
~it's too soon for mcdreamy and meredith to have issues. i want them to be happy. why can't anyone just be happy?
~why can't we be mean to Mcsteamy THIS WEEK? any ideas? abortion? miscarriage?
~Callie's staring scared me too. i'm glad George called her out on it! oooh…but i loved their dancing over the pee bag! hilarious!
~ah, Bailey, how i love thee: "lots of hair, too many women, likes elevators and walks on the beach." she forgot ferry boats and trailors…
~seriously? Burke and Cristina have a messed relationship. but i loved her on the couch at the end. nice touch there, Shonda.
~no voiceover??!! i did not like that!