~~I've been coughing up blood as well. it's a natural reaction to Lee's three choices.
i mean, i knew he'd take Lenny. but Pepi? who the hell even is that?
~~Carolyn's laughter on not knowing who Pepi was one of the best reality TV show moments ever. She was about to CRY, people!
~~was anyone else bothered by Tammy's non-reaction to Andrea's medical emergency??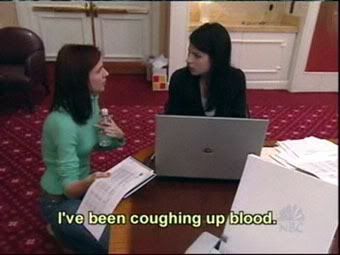 ~~"I'm in there like swimwear." both lame and creepy.
~~If Lee loses this is will be Lenny's fault.
~~Poor, poor Brent and his hovering of desperation.
~~um, yeah, much like the finale of American Idol, i really couldn't give a crap who wins this thing.