1. President's Choice mini hummus packs.
i swear, between the invention of this AND my year-supply of crystal light singles, my lunch has been SAVED! (my lunch…because at another time we will discuss how my children are going to starve in their peanut-free, meat-free school since ALL my son eats is peanut butter and steak)
2. school starts a week from today. i cannot even tell you how happy this makes me. sure, summer is great (what summer?) and laid back and there's no carpool…but the kids stay up way too late, eat way too much junk and drive me ever-so-much-more batshit crazy.
this was all i got last year on the first day.
let's hope this year is a little, erm, happier for Josh.
3. my contacts! yee-haw! a side-effect that comes with my keratoconus, my lovely little eye disease…the dry eyes. the blinking. the dry eyes. the dry eyes..and…wait for it…the dry eyes. i pretty much have been wearing my glasses exclusively (or nothing…which is what i do when i go to places like blogher. so, basically, i simple just don't see) for months now. BUT, i wore my contacts for baseball this week and they felt awesome. so i pushed my luck and tried them again. and again. and again. it's a MIRACLE! i can see. and i don't want to rip my eyeballs out of my head by the end of the day.
(not my eyes. or my eyebrows. yikes!)
4. finishing The Twilight series. and movie! ohmigod! a movie! but….um…Elizabeth Reaser? as Esme? REALLY? is she not far too Ava/Rebecca on Grey's Anatomy type-cast?
and i'm still not sure how i feel about these two as Edward and Bella…
didn't we hear – about 8,000 times – about how PERFECT Edward Cullen is? i'm sorry…but this dude? NOT EDWARD. i think he needs to be far more Nate Archibald-ish, no?
5. Fall TV is coming! it's coming! i can feel it. besides for the return of the Starbucks pumpkin spice latte, the new tv season is my favorite thing about fall. (oh, also? wearing turtlenecks again! ah, love!)
what are you most looking forward to seeing?
The NEW 90210? i mean, even though it won't be them…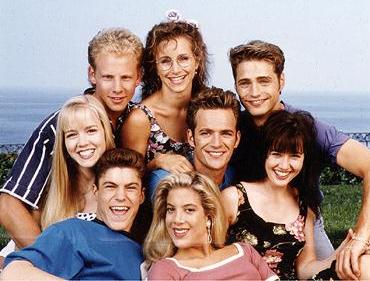 …i'll still be watching. (let's hope it doesn't turn into a Saved By the Bell: The New Class situation. barf)
i'm excited for: 30 Rock! The Office! The Big Bang Theory! Gossip Girl! How I Met Your Mother! One Tree Hill! Survivor! The Amazing Race! Weeds! Californication! Entourage! HOUSE (thanks, AJ!)
i'm skeptical about: Grey's Anatomy and Heroes and Prison Break. They are all going to have to jump through hoops for me this season. because all three pretty much BLEW last year.