…at some point in my life. because, apparently, someone thought they were cool. and i thought i was too..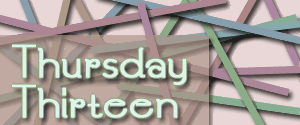 1. the joey jeremiah hat
2. the jelly shoe
3. the oversized flannel shirt
4. the tight-rolled jean
5. the sweater tied around the shoulder
6. the biker short
(still looking for a good photo)
7. the overalls
8. the doc marten
9. the bangs
10. the hypercolor t-shirt
11. the converse all-star
12. the "Rachel"
13. the leg warmers
what about you????