i'm slightly injured this morning, so you'll have to bear with me that my thursday thirteen is a little on the late side…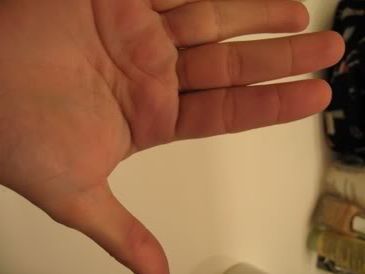 yes, i realize looking at the picture that you can't actually see anything. but i assure you, taking a hard softball to the hand is no fun and leaves you swollen and bruised. good times.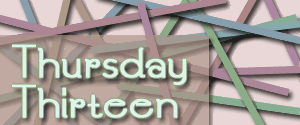 this week i decided to list some of the movies that i quote all.the.damn.time. movies with not just one or two, but too-many-to-count good quotable quotes. moves you can watch over and over and over again.
1. Naploleon Dynamite
"What are you gonna do today, Napoleon?" "Whatever I feel like I wanna do. Gosh!"
"You know, like nunchuck skills, bowhunting skills, computer hacking skills… Girls only want boyfriends who have great skills."
2. The Breakfast Club
"Does Barry Manilow know you raid his wardrobe?"
"So, it's sort of social. Demented and sad, but social."
3. The Princess Bride
"Inconceivable!" "You keep using that word. I do not think it means what you think it means"
"I do not mean to pry, but you don't by any chance happen to have six fingers on your right hand?" "Do you always begin conversations this way?"
4. Ace Ventura
"I have exorcised the demons… this house is clear"
"I'm looking for Ray Finkle…and a clean pair of shorts"
5. Old School
"Alright, let me be the first to say congratulations to then. You get one vagina for the rest of your life. Real smart Frank. Way to work it through."
"You know, when I get back there, I'm going to show you something called crouching tiger, hidden penis."
6. A Christmas Story
"Fra-gee-lay… It must be Italian!"
"Meatloaf, smeatloaf, double-beatloaf. I hate meatloaf." "All right, I'll get that kid to eat. Where's my screw driver and my plumber's helper? I'll open up his mouth and I'll shove it in."
7. Ferris Bueller's Day Off
"Les jeux sont faits. Translation: the game is up. Your ass is mine."
"I do have a test today. that wasn't bullshit. It's on European socialism. I mean, really, what's the point? I'm not European. I don't plan on being European. So who cares if they're socialists? They could be fascist anarchists. It still doesn't change the fact that I don't own a car." 
8. The Big Lebowski
"This is not Nam. This is Bowling. There are rules!"
"Isn't that what makes a man?" "Mmm, sure, that and a pair of testicles"
9. Major League
"I've never heard of half of these guys and the ones I do know are way past their prime."
"Most of these guys never had a prime."
"This guy here is dead."
"Cross him off then."
"Heywood leads the league in most offensive categories, including nose hair. When this guy sneezes, he looks like a party favor."
10. Airplane!
"This fog is getting thicker."
"And Leon is getting laaaaarrrrrger."
"Joey, do you like movies about gladiators?" 
11. Monty Python and the Holy Grail
"You don't frighten us, English pig dogs. Go and boil your bottoms, you sons of a silly person. I blow my nose at you, so-called "Arthur King," you and all your silly English K-nig-hts."
"Oh, but you can't expect to wield supreme executive power just because some watery tart threw a sword at you." 
 
12. Anchorman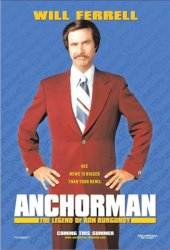 "Discovered by the Germans in 1904, they named it San Diego, which of course in German means a whale's vagina."
"The only way to bag a classy lady is to give her two tickets to the gun show… [kisses his biceps] and see if she likes the goods."
13. Ghostbusters
"Ray. If someone asks if you are a god, you say, "yes!""
"Everything was fine with our system until the power grid was shut off by dickless here." "Is this true?" "Yes, it's true. This man has no dick"