long weekends always throw me off.
for instance, did you know that yesterday was Tuesday?
well, i didn't know, until, erm, 3:10pm yesterday…after i had missed both of my Tuesday meetings.
the good news is that no one seemed to notice that i missed the meetings. the bad news is that no one seemed to notice that i missed the meetings.
bwah.

when i think of the word cottage, the American in me automatically thinks something like this: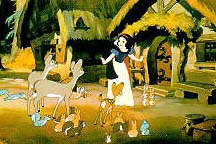 little shack in the woods…inhabited by the likes of, oh, snow white and some dwarves, goldilocks and some bears, little red riding hood's grandma…you know, that old chestnut.
The Canadian in me, however, knows that 'The Cottage' refers to a summer home, usually on a lake. (maybe it's just the Ontarian in me. is that the word? Ontarian?) Everyone i know either has his own cottage, or is related to someone who has one, or has friends who have one. everyone.
I am NOT a cottage person. Well, i take it back. without kids, i like cottages. i love the laid-back atmosphere. the water. the small town living. i love the rustic, quaintness of it. (although nowadays, some people's cottages are nicer than their homes in the city…so they aren't exactly rustic or quaint). sure, i like it, but, as we all know, if i'm going on VACATION, i'd definitely choose a resort with a pool…and a bar any day of the week and twice on tuesdays (yes, i know that it's wednesday…) over cottage living.
but, really, for me, once you throw kids into the mix, the nice laid-back atmosphere becomes nothing but chaos to me. and i don't do chaos. (this should come as a shock to no one…) the kids don't sleep. they are constantly dirty – sticky and sandy. one is afraid of the water…and one won't come out of the water. one is bored. you have to keep your eyes on the kids – constantly. it's not a break, it's WORK. and holy bugs, Batman! (thanks, LD, for reminding me of the bugs!) mosquitoes fuckin' love me – i went to play baseball two weeks ago and came home looking like i had the mumps from all the mosquitoes.
my sister in law and brother in law rent a cottage every year. and every year they invite us to come up. and every year we decline. usually, truth be told, it's because it's inconvenient – we both work and don't really have the days off, the kids are in camp, and our weekeneds usually fill up like mad in the summer. but, there's a part of me that says no because i just don't want to go. there's a part of me that feels like it's a lot more trouble than it's worth.
to take kids to the cottage you have to love the cottage. as much as those stupid-ass women in the aero commercials love their aeros. as much as Britney loves the cheetos and the nasty wigs and the bad publicity.