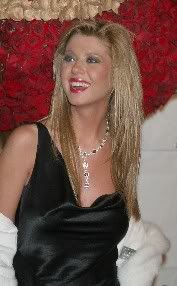 you know you want to click here to see Tara Reid's not-so-family-friendly display at P Diddy's Ball…..
from the New York Post:
As paparazzi clicked away merrily, an oblivious Reid continued to pose. But her smile turned into a grimace when she realized her breast was exposed after a handler ran over and frantically pushed her fallen strap back onto her shoulder.
"I took off my jacket and my strap fell off. It was awful. The photographers were like lunatics — high-fiving each other in front of me. It was so embarrassing. There were so many paparazzi and the flashbulbs were going off, I couldn't see anything."
"I didn't even know what was happening. I was like, 'It's not nice to take a picture like that. Please don't print the picture,' but they just laughed."
and this just in!! Paris strikes back and challenges Tara Reid in the "who can be the skankiest celebrity" contest. Click here to see Paris in all her glory.
****don't say I didn't warn you, Eric, in case you are still reading. You might not want to take a peek.