i'm not sure which one i find more disturbing…
a) Indian woman Namatia Ghosh, 46, nurses her five-year-old pet monkey Babloo inside her residence in Chandrapur, 65 km (40 miles) south of Agartala, capital of the India's northeastern state of Tripura, February 28, 2005. Namatia has become an attraction in Chandrapur and receives many visitors curious to see her caring for her pet.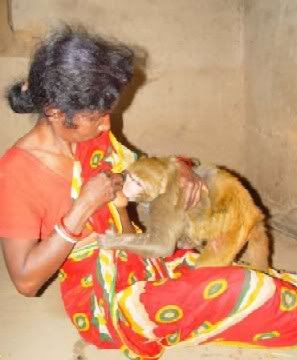 b) An Iranian woman is attempting to set a legal precedent by divorcing her husband because he has not showered for more than a year, a press report said.
The 36-year-old woman, only identified as Mina, reportedly told a Tehran court her husband Reza smells so bad that even his children will not go near him.