…i know i've been kind of lax on my celeb gossip in the past two weeks…but it's back. apparently, while i was in my own world having Isabella, i missed that:
~~ Jude Law is not only a cheater, but he has a small penis as well. i swear, this is news folks. it's been all over the place. (please note: this picture is graphic and is NOT SAFE FOR WORK!!)
~~Ciara ripped her pants in a wildly inappropriate place on Good Morning America:

~~Keanu Reeves is gross. Contact Music is reporting that Keanu Reeves has dumped 28- year-old girlfriend Lynn Collins to rekindle a romance with 59-year-old Dianne Keaton. Keaton and Reeves, 40, met and were linked romantically while the two filmed Something's Gotta Give, before Reeves met Collins. ew.
~~Tara Reid fell down. are we at all surprised?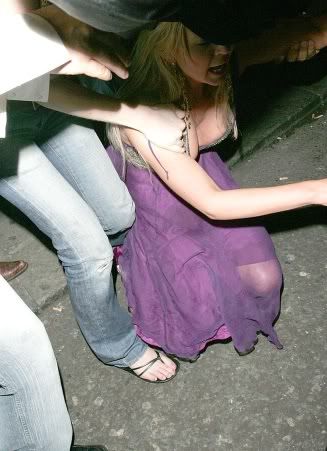 ~~Courtney Love may or may not be pregnant with Steve Coogan's child. Call me crazy but don't you think someone like Courtney Love should make sure her birth control is working??? She is unfit to take care of a human baby.
~~Kirsten Dunst may or may not be pregnant with Jake Gyllenhaal's child. she was seen buying something that looked an awful lot like prenatal vitamins.

~~Scarlett Johansson crashed her car and blamed it on paparazzi. As it turns out, Scarlett is just a big old liar. it had nothing to do with the paparazzi.