my weekend started very much like this…
and ended kinda sorta all fat guy in a little coat-like…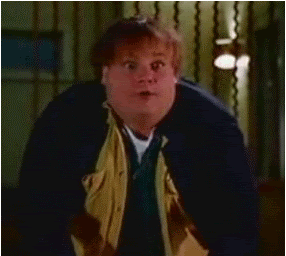 (we aren't going to talk about how many of these i ate. but, the number is more than my daughter is old. my oldest daughter. the shame.)
while i spent 2 full days on a white sugar and white flour high, i accomplished many things…
~ i finally got Isabella into a camp for this summer. who knew that you needed to sign a 2-year-old up for camp in January?
~ i had an all-out pajama cuddle session with my girls. apparently, the fucking baby alive is now my grand-daughter. (emily really needs to quit calling me 'grammy' or she's going to lose way more teeth to the tooth fairy. relax, i kid. mostly)
~ i urged forced Emily to spend her $200 at Toys R Us (thank you first grade moms who give gift receipts with birthday presents) on something that she I really wanted, instead of the Hannah Montana crap she wanted to buy…
~ i bit the bullet and signed myself up for some fancy shmancy physiotherapy. i was getting a little bit tired of forcing emily to help me put my contacts in and put my bra on in the morning. and i think she was getting a little tired of looking at me naked. she's way too young to know how to unhook a bra.
~ i took the good with the bad. Isabella announces: "Mama, your boobies are lovely!" (lovely??! who teaches her these words?). but then after i thanked her she told me that she didn't like my vag and it was too big.
~I embraced Earth Hour.  we spent an hour. talking. by candlelight. (mmm…vanilla scented candles) i'm wondering how many babies will be born 9 months from now. (not in our house of course. thank you, mirena)
what did you do this weekend?