My poor Packers played like absolute shite, and lost 31-17 to the Vikings. what is the point of coming back from being down 1-5 in the beginning of the season, if you can't step it up in the playoffs. what the hell?
in a moment of comic relief though, after receiving a 34-yard touchdown pass from Duante Culpepper, Randy Moss mooned the Green Bay Packer fans and wiped his ass on the goalpost. although it didn't really happen. he was PRETENDING folks.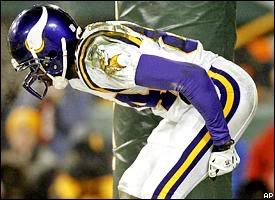 i thought it was hilarious, but some, including sportscaster Joe Buck, were nonplussed. "That is a disgusting act by Randy Moss. and it's unfortunate that we have that on our air live. That is disgusting by Randy Moss." i had to pause and rewind on my tivo to see what the disgusting act actually was. had i missed something? Had Moss actually dropped his pants and i missed it?
so, there was nothing. just a little tushy shaking. yes, in poor taste, but the guy was just happy. No doubt he will "be hearing from the NFL" and will probably face a fine, but the guy didn't do anything wrong!!!!
and it was my one smile while watching that god awful game last night…