it's only 8:15, and i can already tell what kind of day it's going to be…
i got on the scale, excited to weigh myself after an amazing week. good eating. good exercising (3 times this week…would have been 4, except i got invited out on saturday night where i had sushi….and cheated…i enjoyed my very first turtle.) and i got on the scale…and…drumroll please…i'm one pound UP from where i started from. so, now i have 9 pounds to lose. seriously, i haven't weighed this much since i was about 5 months pregnant with Isabella. terrific. i'm glad i'm working so hard to GAIN weight. if this was my goal, i'd so much rather be drowning myself in doughnuts and cookies. mmmm…cookies.
also, i was running late this morning, and i didn't have time to blow dry my hair. so, i threw in a little mousse, and did a little scrunching. usually, this creates a very nice, very pretty curly-ish look. this morning, however, it didn't.
me: it's not curly, it's
husband: frizzy
me: thanks. that helps.
husband: well, it might calm down when it dries.
so…here i am at work, looking bloated and rather jersey-ish. great.

anyone still watching TAR? this may have been the best.leg.ever.
~anyone else laugh out loud when Kimberly said, "grand mask?" followed by "mosque? i'm supposed to know what that is?"
~i'm so happy that Sarah made the decision to dump Peter's ass after he made the decision to make her climb the ladder. what an asshole. AND she added salt to the wounds…"i want someone nurturing and caring…and he's just not!"
~yes, yes, the Cho's are super nice and saved Dave and Mary's asses…but, dudes, it's a RACE!
~ah, my David waxing nostalgic about being a fireman. i SO heart him. and Mary? "maybe Steven Segal will see me and want me to be in one of his movies!" i SO heart her too.

wanna take a stab at who's got his hand touching his unmentionables?
what say you – - – digging for gold, or just a tuck-in?
keep reading to find out…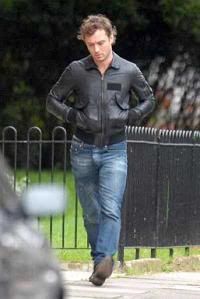 it's the lovely Jude Law.