It took me about 6 weeks to read The Other Boleyn Girl. I really, really loved it. i swear. i did. if you know me, you know that i, like my good friend Kath, love me some British royalty, especially Henry VIII…but he has to look like this Henry
and not like this Henry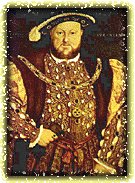 because good god, why did ALL those women swoon? why?
but alas, she was a long read…600 pages, i think…and when you read for a living, reading for, well, my own enjoyment is tough to do. but, on sunday, while i had a sick lethargic toddler glued to me, who wanted to watch nothing but the Piglet Movie…over and over and over, i had nothing else to do so i read Jon Krakauer's Into the Wild. in one sitting. i was fascinated. couldn't put it down.
it's the true story of Chris McCandless, a young man who gave $24,000 to charity, left his home, his car, his cash, his possessions and hitchhiked himself up to Alaska, where he decided to walk right into the wilderness, completely ill-prepared. He started his adventure in April of 1992, and was found dead in an abandoned bus that August.
Was he brave? or just stupid? are we supposed to be touched by his journey and the people he affects along the way or should we write him off as being a spoiled, rich kid who sealed his own fate by making foolish decisions. It's tough to decide, really.
(ps. Sean Penn made the movie version of Into the Wild with Emile Hirsch. yum. It's gotten fantastic reviews. i can't wait to see it…but, it'll have to wait until i'm done watching the last Die Hard…sadly..)
anyway…i'm now in a good reading groove. and i'm now looking for something new to read. Suggestions? What was the last great book you read?