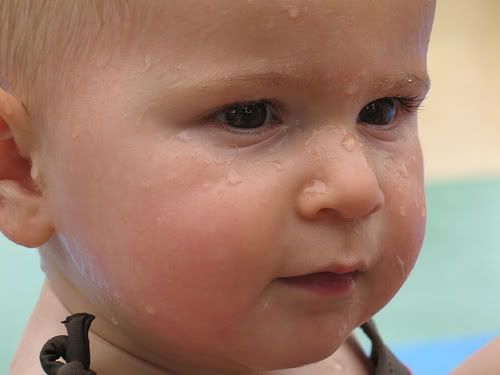 this is a good indicator of how Isabella spent her weekend.
~going to the water park at Canada's Wonderland. she wasn't quite sure about the sprinklers. she was fascinated and wanted to go closer, but the second we got near she got a little scared.
~swimming at Jack and Ilana's pool. this kid is a total water baby. she loves the water. splashing and kicking. she didn't want to get out.
~we're not even going to talk about the many showers she had to have over the weekend…the poor girl pooped through her diaper every night. (we've decided to switch back to pampers. to hell with sales and cheap huggies. they are SOOOO not worth it)
which brings me to the most embarrassing thing (well, one of them) that has ever happened to me. isabella liked getting into the shower with me. mostly, though, she liked my nipples. yes. like buttons for her to push. she was absolutely fascinated. which is why the shower was a short one. while this was a fun game for Isabella, it was hardly joyous for Mama.
so…my inlaws came over for lunch yesterday and afterwards, Emily turns to my FATHER-IN-LAW and says, "you know what, Sabba? My sister likes to pretend that my mommy's nipples are buttons and she pushes them in and out."
dying, i was. i'm probably still 10 shades of red from it.
and i will never be able to look at my father in law again. ever.