go on, take a gander at this.  
not sure what you are looking at? this, folks, is what the husband and i pulled out of our fridge yesterday. FOUR jars of duck sauce**. SEVEN jars of pickles. and ELEVEN containers of open mustard.
this is what happens when you can't seem to fit your groceries into your 25.5 cubic foot fridge.
this is what happens when you have more than one child.
when you have one, you have time for things. you have time to clean out the fridge. and to get dressed in something other than yoga pants and a hoodie. you have time to get your hair cut and get your hoo-ha waxed and to go shopping. you have time to make sure that you have enough toilet paper. you have time to shower. you have time to check your fridge to make sure you don't need mustard.
this is what Her Bad Mother, Mrs. Chicky, and Mrs. Chicken (and i'm also going to throw in Sam at Temporarily Me) - four lovely, lovely women who are about to have their SECOND babies, have to look forward to. a giant fridge with no room to store anything. (something else they have to look foward to…which only gets worse when you have three…is the constant getting of drinks. all the livelong day i, slave extraordinnaire, get drinks for my children. juice. water. chocolate milk.)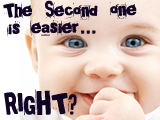 The Better then a Playdate and Cool Mom Picks ladies are behind this virtual baby shower. and they are looking for us to give some advice to the moms-for-the-second-time-to-be…
and the best piece of advice that i have for them, that i got from a good friend right before i gave birth to my second ankle-biter, was that it's okay.
it's okay to go out in the same outfit three days in a row. it's okay to put your hair up in a clip because you don't have time to dry your hair. and it's okay to have a fridge full of pickles and mustard. it's okay to have three-month old roots. it's okay to stay inside when the thought of bundling two in snowsuits and strapping them into carseats gives you heart palpitations.
it's okay to look like this the day you have your second…and it's okay to actually show people (because they won't judge you too harshly. that's a note to you, readers, don't judge me too harshly. and no need to tell me i look like i'm 12. i already know.)
(and ladies…come back to me when it's time for #3…i'll tell you all about the things that are okay to do when you have THREE little monsters running around. hahaha!)
(**note…there is NO duck in duck sauce. it's a sweet-and-sour sauce (think: plum sauce) that my nanny uses in her Chinese food…and it's a good dipping sauce for things like egg rolls and wontons….and i use it in some recipes for chicken. it's AMAZING…you are going to have to trust me on this one.)