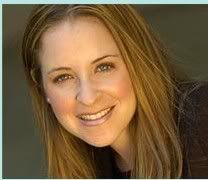 okay…granted i have long hair…and yes, i am short.
but, i do NOT look like this.
This random woman comes up to me last night, with her mother, and goes absolutely nutty on me ranting on and on, "Has anyone ever told you that you look exactly like Stacy from the Apprentice?" After politely saying, "um, no." she went on to say, "my mother and I think you look IDENTICAL to her. Really. you look exactly like her. It's meant to be a compliment."
sheesh. egads.
then, thankfully, another woman came over to me, and made me feel a little bit better about myself by saying, "You look nothing like Stacy. You are much prettier. She's very pointy and annoying. Really, you totally don't look like her."
Thank you, and yes, you can stroke my ego anytime.