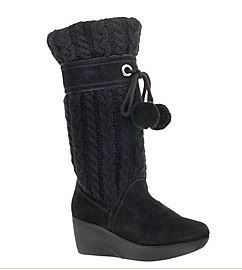 think: for over skinny jeans or over leggings.
(PS. they are from ALDO. and they are $130. but i have a 15% off coupon…which essentially, in Canada, means no tax…since our tax is a freakin' 14%….)
holy hell, did i just actually say that??!!
i never thought those words would come out of my mouth. ever.
although…i honestly never thought i'd say that i wouldn't eat candy until november 7th, but i went ahead and said that too, now didn't i??
and i probably never thought that i'd ever say, "sure…honey, you can give me that snotty off your finger." but you can be damned sure that i said that to my toddler this morning…and it wasn't the first time either.