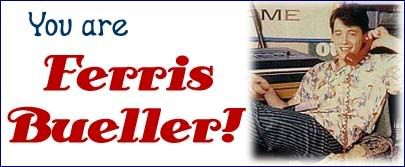 You are Ferris Bueller (from Ferris Bueller's Day
Off)! You're a smooth talker and a
resourceful, quick thinker, and you play by
your own rules. Fortunately, you use such
things for fun and not to hurt anyone else.
God only knows what would happen if you crossed
paths with Lisa from Weird Science.
Which John Hughes Character Are You?
brought to you by Quizilla