i've officially discovered the key to my happiness. it's the old navy perfect v-neck in a size medium: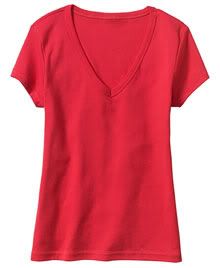 oh…it's amazing. fitted enough that i don't look like i'm wearing a muumuu, and short enough that it doesn't come down to my knees. ah! as close as i'm getting to heaven these days.
so..my biggest issue these days seems to be finding a name for this child if it's a boy. we have a great girl name. but for a boy? nothing. and the two names i like i can't use. the first is Jackson, and we'd call him Jack, but, alas, it's my father in law's name. the second is Joseph, but, alas, this one belongs to my brother in law. cripes.
help!! i'm begging you. help us name this child!