breakthrough #1: Isabella has woken up dry three mornings in a row. (setback #1…yesterday morning she marked my wool coat with her urine)
breakthrough #2: I watched Die Hard, Die Hard 2 (aka Die Harder) and half of Die Hard with a Vengeance. I'm PLOWING through my 11th new years resolution.
breakthrough #3: the husband and i finally figured out what on the football god's green earth this – that sits midfield – is:

at Gillette Stadium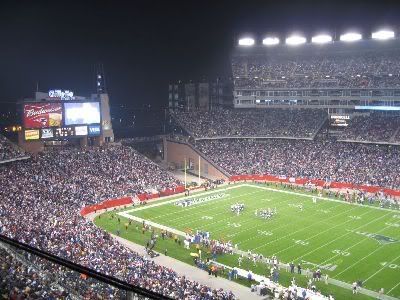 and no, it's not a product of the Dharma Initiative.
what is it, actually, is a TERRIBLE rendition of the lighthouse and bridge at the stadium…
um, yeah, okay…
breakthrough #4: I'm officially on my way to starting to get ready for my trip to Stl Lucia in March. i officially have a Juicy island dress, courtesy of my lovely, lovely sister who spoils me.
it's the closest i could find…only the actual dress is cotton and black, not terry and white…because, seriously, i would NEVER wear a white dress. EVER. i mean, of course, besides at my wedding, of course.
breakthrough #5: I'm officially on my way to being able to wear it without looking pregnant. as of this morning, i'm down 7.5 pounds. which means i lost the 6 i gained while we were in Atlanta, plus an bonus pound and a half. this is thanks to SouthBeach lite…the diet i'm currently living by.
breakthrough #6: my new site design is almost complete. all thanks to Miss Becca and her wonderful husband Jason. They are amazing, amazing people and i simply adore their entire family. These are people i KNOW i'd be friends with in real life. These are people i wish lived closer to me because i WANT to be friends with them.
here's a little snippet…but this is all you are getting…

so don't even ask for anything else…
breakthrough #7: it's not a breakthrough at all…but it's something i found absolutely hilarious…even though it's really not all that funny…i just LOVE Juno and seeing Ah-nold in a pregnancy suit makes me laugh…
don't forget to vote….i've been nominated for FOUR Canadian Blog Awards. Please vote for me! This year you can only vote ONCE per CATEGORY per round…so i'd love it if you could throw at least one my way…
i'm nominated in for Cheaper Than Therapy for:
Best Personal Blog
and for Juice for:
Best Entertainment/Cultural Blog