thing #1:
"mommy! mommy! i awake. and i flyin' mommy? you dere mommy? i flyin' i flyin!"
so, i went into her room. she wasn't kidding. there she was on, on her stomach, with both her legs and her arms waving in the air. she was flyin' (damnit to hell…where was my camera when i needed it?!)
thing #2:
while giving Emily a bath yesterday.
"…tell me princess now when did you last let your heart decide. asshole new world!" followed by a bunch of giggles.
"excuse me? what did you just say?"
"what? you say it all the time!"
"no i don't!" at least not in the context of a disney song. give me a little credit!
thing #3:
while hanging out with two of my GUY friends.
"Jessica Biel is not hot."
and
"i would totally sleep with Fergie. i think she's hot."
what? seriously?
vs.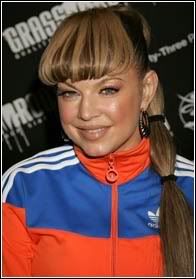 jessica biel has THE hottest body on the planet. and an ass i would die for. (Tova and i saw Chuck and Larry last night. we both concur. she was smokin' hot) and Fergie has a face only a mother could love.
i have completely lost faith in my friends.
now, if you'll excuse me…i'll be spending the rest of the day licking playing with my new camera. it's 10 megapixels of picture-taking goodness….ah…bliss.