recently, i bumped into a friend that i hadn't seen in ages. probably, guessing by the size of her stomach, roughly 6 or 7 months.
while staring straight at her belly, the first thing out of my mouth, because i'm ever-so-classy was:
"Wow. apparently, i haven't seen you in ages!"
*crickets*
*crickets*
oh, fuck. red alert! not pregnant! not pregnant! i had broken the cardinal rules. never assume that just because a woman has a belly, of any size or shape, that she is pregnant. never assume that just because a woman is wearing a maternity shirt that she's pregnant. never assume and never comment and certainly don't point or talk to the stomach in question…that only makes it worse.
"Yeah….well…we decided to go and have another…"
so, apparently, she was pregnant, but also, a little bit deaf. or a little bit slow. or she was just ignoring my comment (which was understandable since she was pregnant with baby #4. i'm sure she's quite the tuning-out expert!). those few seconds that she kept me hanging were torture.
so…what have a i learned from this little experience?
wait for the possibly pregnant person to bite first. you never know. she could be chubby or bloated or just wearing something that looks maternity. she could have already had the baby and is just waiting for her stomach to un-bloat. (my mother did this once. at gymboree. asked a woman when she was due. while i stood beside her, staring at the newborn in the snap 'n go. talk about crickets!)

one of my besties, Ilana, went and had herself a delicious baby girl, Jadyn Belle, last week. i haven't been able to get enough of this child. i think i've held her more than her daddy has! (at least that's what he says…)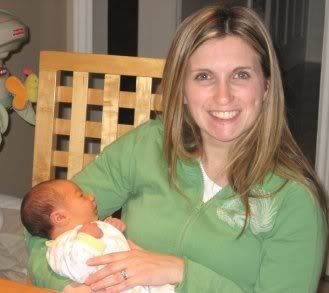 if you want to read more about it, i have a lovely little post up over at urbanmoms.ca