~~ Tiny Fey (from Mean Girls fame) has made a deal to write Curly Oxide and Vic Thrill. It is the true story of a Chasidic Jew and a grizzled rock star who form a band. According to comingsoon.net, Curly Oxide is the stage name of the young Chasidic Jew who wandered into a Brooklyn bar where Vic Thrill drunkenly played his raucous music. Thrill struck up a conversation and a mutual interest in music led Thrill to invite his new friend to visit his nearby recording studio. The duo began writing and performing music together, mingling their cultures in the playful lyrics.
What? I don't even get it…
~~ Paris Hilton is now a writer. yes, you heard it here. apparently, she will be publishing a 198-page memoir, "Confessions of an Heiress: A Tongue-in-Chic Peek Behind the Pose." Why, oh why, is she getting a book published before me?? She might not even know how to spell published.
~~ okay, this is just hysterical. Both Tony Danza and Jane Pauley are set to have their own talk shows. And both are using the same tag-line to plug their shows – "A Familiar Face In a Brand-New Place" Who would win out in the battle of the housekeeper and the anchorwoman? I'm not sure, but I'd love to see the Celebrity Deathmatch on what one.
~~ oh, the Coreys (this one is for you, Michelle!!) We were reminscing about the Goonie days… I found a recent picture of the Coreys. It's not a pretty site.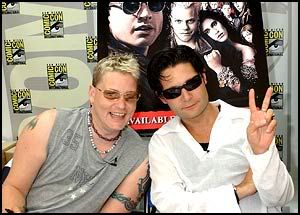 I'm pretty sure that Samwise Gamgee wins the most successsful Goonie award. Josh Brolin comes in second place, but only because he's sleeping with Diane Lane.
just a little side note…i'm well aware that Corey Haim was NOT in the Goonies…but he came into play when we were discussing Corey Feldman…
~~ Oh, Britney, you never cease to amaze me.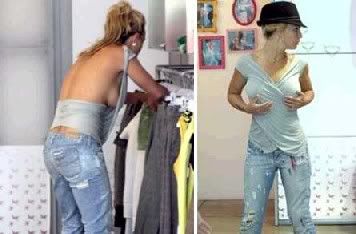 I did find a quote from Graham Norton that was so funny I think a little pee might have come out: "Britney Spears and Kevin Federline are hoping the new mansion they've just purchased will be ready in time for their wedding. It could take a while, because it takes a long time to weld together a hundred trailer homes."