So, last week i was tagged by Irina at Spectacularly Normal. There's not a chance i'd say no…because hello! look at her! Can you say girl crush? anyway, there are too many rules and remember…hi, i'm Ali. i'm not so good with rules. so, the gist is that i am supposed to tell you 6 quirky things about my kid. now, since i have three them there children, Irina suggested i tell you two about each of them. easy, right? you would think…but coming up with ONLY two is hard, dude!
Emily… doesn't sleep. i've mentioned this before…but it continues to baffle me on a daily basis. the last couple of nights i woke up at various times to take Isabella to pee (having a toilet trained 2-year-old = good; having to get up in the middle of the night to take her tushy to the bathroom = not so good) and Emily was AWAKE every time. practicing her songs for The Wiz of Oz.
ps. oh!!! and she got her part in the play…she's the #1 Witch helper, which, i guess makes her a bad guy, but in the end, she gets freed and thanks Dorothy. she has a name…but i can't remember it, and it starts with a "u" and sounds too much like vulva for me to say without laughing (because i'm 12). Udine? possibly? she's SO excited about it. and i, of course, am totally thrilled to pieces for her. and apparently, we are all Wicked Witch lovers now…
Emily will not eat off of our Ikea plates.
 
or drink out of the cups. we thought at first that she just wanted to be like us because she was asking for an "adult plate" but we figured out that she won't eat or drink out of anything plastic (just like her mom) because, she says, "there's been yogurt on those plates and the cups smell like apple juice" weirdo (just like her mom)
Joshua…is obsessed with his hair. remember back when he wanted to grow it long? and then i miraculously got him to let us cut it? and then he cried? well, he's STILL annoyed at me about it. and still asks me to let him grow it long. on a daily basis. what? i mean, he's a BOY. and he's FIVE years old…he's so not supposed to care about these things!
Josh has a pair of flannel old man pajamas. they are from gapkids and are navy with green, white and red stripes. they are a size 3 (he's 5) and we decided it was time for a new pair that, erm, you know, actually FIT. so, we bought him a replacement pair in this year's updated style….they are navy with green, white and red stripes. and he won't wear them. he wears the old ones. every. single. night. even though they are exactly the same.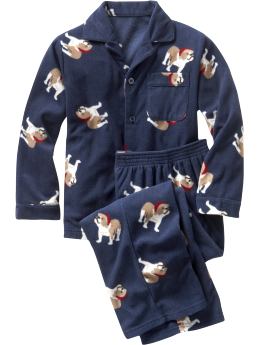 (think these, only striped)
Isabella… is obsessed with gender labelling and place-in-family labelling these days. she'll work it into every single sentence out of her mouth. "mama, today Josh hit me. he's a boy. and he's my brother" or "i like you mommy. you are a girl. you have a vag" and that brings us to #2…
Isabella has decided to call her, um, girly parts her 'vag' also, after she pees she sings a little song ala "wipe my vag, wipe, wipe my vag" (i wonder what sort of google searches this will bring)
oh! and i'm supposed to tag some people….hmm….i suppose i'll tag my girl haley-o (because, y'all know how much i heart her), miss Angella at Dutch Blitz (because she's also got three…so that's just two for each…see, look how easy i'm making it for her!!) and Aimee at Greeblemonkey (because i love her Declan and can't wait to hear some of his quirks)