The latest and greatest to come out of Milwaukee (yes, i admit it, i did live there…)
~~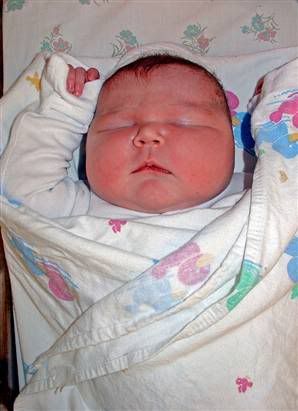 Weighing in at 13 pounds, 12 ounces, Delaney Jessica Buzzell isn't your average newborn. Her parents have even dubbed her the "Big Enchilada." The baby headed home Tuesday after being delivered by Caesarean section on June 23 — a surprising three weeks early.
Her family isn't quite sure what to make of her weight. The father is 6-foot-2 and the mother is 5-foot-7, and nurse Judy Nadolski described them as "regular-sized."
The child weighs near double the average newborn. And according to the National Center for Health Statistics, less than 1 percent of babies weigh more than 11 pounds at birth.
~~ The Milwaukee Bucks selected 7-foot center Andrew Bogut from the University of Utah with the No. 1 pick in the NBA draft last night, marking the first time in five years that the top pick played at least one year of college basketball. Bogut was the consensus national player of the year after averaging 20.4 points and 12.2 rebounds as a sophomore. He also was a member of the Australian Olympic team last summer in Greece.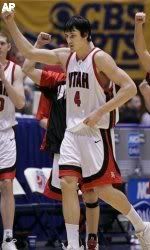 Milwaukee had been debating whether to take Bogut or North Carolina small forward Marvin Williams with the franchise's first overall No. 1 pick since 1994, when the Bucks selected Glenn Robinson. In the end, the lure of a versatile, athletic 7-footer with Olympic experience was too much to pass up.
Let us all pray that Bogut will be a better asset to the Bucks than Glenn Robinson was. What a waste of a no. 1 pick….