way back when Ali was a wee lass (yes, i realize i am still kinda sorta of the wee lass persuasion) … back when i was littleali. when i looked like this…
well, way back then, i went to private school. like my kids do. jewish day school. like my kids do. and when i was in first grade, i had my right of passage of sorts to make it to the second grade. like my kid just had last week.
it was my graduation/siddur ceremony. Every first grader is presented with his or her own prayer book. i found a picture of me posing proudly with my mom from that day (sadly, there's no ACTUAL big, blue and bulky siddur in the photo…)
and it feels funny (and when i say funny, i mean old) to be going through these motions with my own daughter...only with way less feathered hair and overall jumpers and pigtails…Emily at 7 has way more style than i could ever hope for…but, the ceremony was the same. the siddur was the same. the blue and white outfits were the same (this is one of those wtf jewish traditions. growing up, any time there was anything, you wore blue and white. israeli flag colors. hahahah. i guess it's akin to wearing red, white and blue on the 4th of July..only you'd wear it every time you ate apple pie. or something.)
well, of course i saw Sex and the City this weekend. (i mean, you knew i would, right?) (possible spoilers ahead…possibly…but nothing that hasn't been all over the internet for months)
i liked it. and i'm glad i saw it. but i wouldn't say i LOVED it. i definitely didn't love it.
the movie wasn't so much the 'sex and the city' that we are used to, but more 'friendship and the city'. it was more about how these four friends are there for each other. thick and thin. good and bad. funny and sad. and boy was it ever funny and sad. it was a real emotional rollercoaster. i laughed. i cried. and then i cried some more. and then i laughed some more (how could i not…when one of the girls shits her pants. and when one of them tries to figure out how to answer the phone while she's lying naked, underneath the meal of sushi she just cooked.)
sure, there was gratuitous sex, and even a peek at a wiener, and some good-old-SATC'esque pube-mocking, but the Sex and the City girls from the series have moved to a different place. they are not the women they once were. They are the marrying kind and the babying kind. They are still sharp-tongued and quick-witted (but just not enough). They are still in love with shoes and fashion, although at times i must use the word 'fashion' loosely…i mean, Carrie wore a bird on her head. on her wedding day. i was not impressed.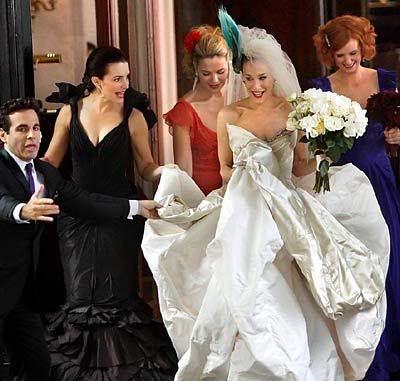 A BIRD!!
but, we know they'd moved on. hell, even they know they've moved on. as have all of us. My friends and i are the marrying kind. and the babying kind. but i was expecting so much more. more raunch, more over-the-top'edness and, you know, actual SEX.
but, i did love the shout out to season 1's infamous tutu..
then:
now: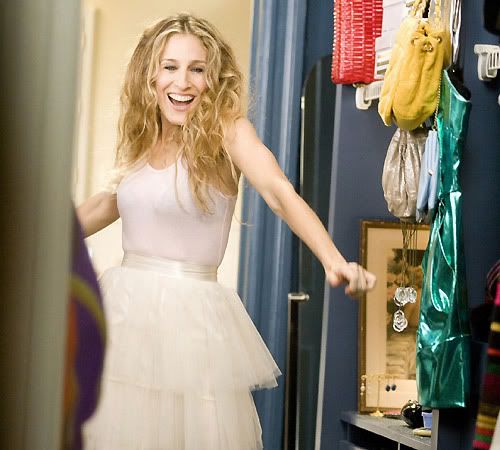 (my personal thoughts about Sarah Jessica Parker aside…girl can still wear a tutu)
it was too long…two and a half hours. and it was pretty cheesy. far more cheesy than i ever remember the show being. but, then again, sometimes you just need to grab your crackers and enjoy a little cheese. i mean, i saw the movie with my girls. they are the Miranda, Charlotte and Samantha to my inner Carrie.