For those who haven't seen the movie Cool Hand Luke , here's the deal: Paul Newman attempts to eat 50 hard-boiled eggs in an hour and succeeds, winning riches, admiration from his fellow prisoners, and complete digestive shutdown. Yesterday, Maxim assistant editor Steve Mazzucchi attempted to eat 50 sickeningly sweet Cadbury Creme Eggs. To be nice (and to delay the inevitable seizures by a couple hours), they gave Steve-O a full day to accomplish this feat, from 10:00 am until 6:00 pm.
Once the office pot reached $700, Maxim intern Pat "working for college credit" Hourihan jumped in to play the part of the worthy opponent. The challenge: Eat 50 Cadbury Creme Eggs over eight hours — 4.3 pounds of candy, 500 grams of fat, and 9,500 calories of awesome.
Pat on his 26th egg. he says, "I'm sweating and shaking and can't sit still. Earlier, I tried chasing the eggs with pretzels and a steak sandwich and I think that's where I went wrong."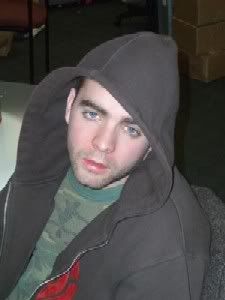 Steve on his 28th egg. "I didn't eat anything yesterday and was drinking tons of water last night in an effort to expand my stomach, but this definitely takes more than one day of training. The first 20 went down pretty easily, but after that…." [breathing heavily] "I don't even really like them, to tell you the truth!"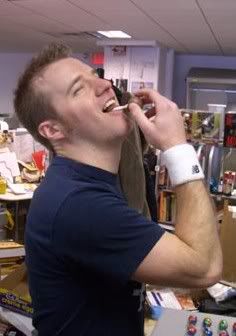 unfortunately, to quote "Cool Hand Luke," Nobody can eat fifty eggs.