Last night my friend Michelle's mom got us free passes to see a sneak preview of the new Amanda Peet and Ashton Kutcher movie, "A Lot Like Love."
It was, in fact, a lot like other movies you've seen. think Serendipity (except in this one, we don't get to see Jeremy Piven) – where the main characters meet again years later. think Say Anything – where Kutcher pulls a very John Cusack-ish move but instead of a gigantic boom box, he uses a guitar and a horrid singing voice.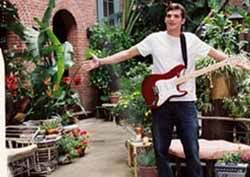 think When Harry Met Sally – where the main characters complain about their significant others. think Boys and Girls – where two friends deal with the whole intimacy thing.
Kutcher is a big dope, who can't get out of his That 70's Show role. But Amanda Peet is beautiful, and she was enjoyable to watch. and any movie that has Taryn Manning in it is okay by me (well, maybe not this one). I went in realizing that i was seeing an Ashton Kutcher movie…and that it couldn't possibly be all that great. but, i enjoyed it. i'm sure glad that i didn't pay for it, though.