we went to this place called Reptilia in February of 2007. back when Isabella looked all bald-headed and was completely made of CHEEK: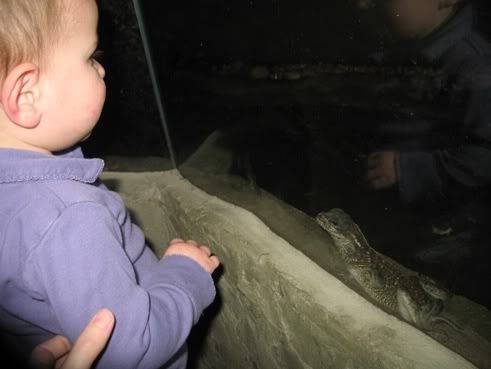 girl was in love at first sight. snakes. turtles. crocodiles. iguanas. but the frogs?? HER TRUE HEART'S DESIRE.
we also have Ontario Science Centre passes, where my daughter Isabella will ignore all the FUN things to do, including a giant BATH waterworks system and sit for hours talking to the poison dart frogs. and she thinks it hilarious when the one "bully" frog proceeds to mount and hump all the other frogs. boom chicka wow wow. no, i'm not kidding.
so, she has kind of always had a thing for frogs. i sometimes refer to the kids as 'my bunnies' and every time i say it, Isabella corrects me: "Emily and Josh are your bunnies. I'm your FROGGY" "yes, Isabella. my mistake" "Ribbit!", which means thanks.
her room is full of these:
but the kicker. the REAL kicker came last weekend.
we were walking down the street and Emily screamed out. "A Bug! I think it's a cricket! or maybe a roach! what the heck is that thing?"
Isabella walks over, shoves everyone out of the way, and says
"I'll take care of this!"
she bends down near the bug, sticks her tongue out as far as it can go (and she's my daughter…trust me…we are long-tongued), makes a loud slurping sound. and stands back up.
"there. i ate it. YUM! YUM!"
we all looked over at her.
what
the
fuck
?
and then Emily stepped on the bug.
the end.
ps. please please please tell me i'm not the only one with an obsessed child??!?!
pps. please note that she only PRETENDED to eat the bug. i said obsessed…not possessed!