i will be back, i promise, with my montreal mega-post. i've got so much to say.
but, we'll start with the found porn that i will be sending into Maxim. oh, yes, i will.
yesterday we went to this place called "Banana Zoo." it was an indoor playground inside the Recreatheque. (if you check out their website, they will be open on LABORD day. in case you were wondering. he).
official sign. this is NOT a joke. i repeat. it's NOT a joke.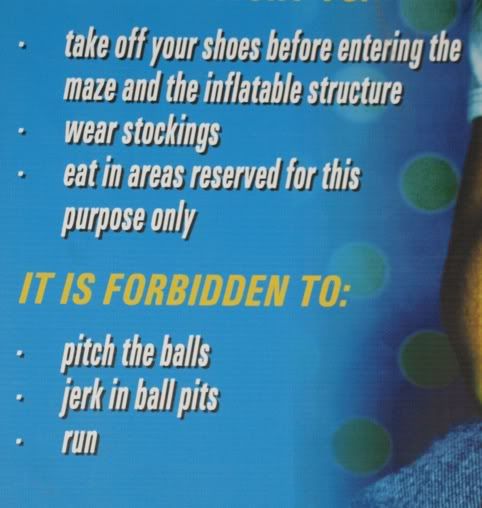 so, just so you know, for future reference, when you visit the banana zoo, it is forbidden to jerk in ball pits. hahahahahahahaha. and yes, i am 12 years old, thank you very much. or at least i have the sense of humor of a 12-year-old.
talk about getting lost in translation.
until i can get all my Montreal-ing goodness up and online, i wanted to let you all know (all three of you who are reading on a holiday monday…it's labor day, people! go do something fun! get off your computer!) that my urbanmoms site is now live!
you can come check out my FABULOUS new blog here.
stop by and say hi. i'm a comment whore. seriously. leave me some and i'll be your best friend.