~~ in a very Billy Crudup-y move, Denise Richards, who is 6 months pregnant with husband Charlie Sheen's baby, has filed for divorce, citing "irreconcilable differences."
~~ and in a very Donald Trump-y move (aka "The Donald"), Bill Gates changes his name to "The Gates." ha!
~~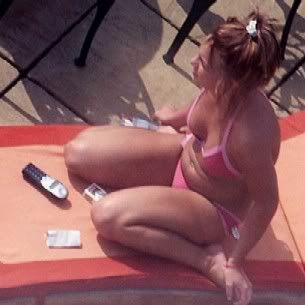 Ah! I can't get enough of the not-so-flattering Britney pictures….makes me feel better about being pregnant…
~~


Did anyone else notice that Johnny Depp dressed up as Jamie Foxx dressed up as Ray Charles for the Oscars? (thanks Goldenfiddle)
~~ in a somewhat upsetting American Idol vote off, we said goodbye to David Brown. ah. i'm so bummed. he was so awesome. and we also said farewell to 3 people i won't miss – celina rae, aloha, and joseph murena. but, i ask…how the hell is Janay still in this competition? she needs to be kicked to the curb. fast.