i know you are all here looking for some details on how my interview went. You'll have to come on over to Fabulous for the full review. and the photos! and the videos! and the details on Urbanmoms.ca's fabulous Hairspray giveaway!
I'll leave you with a few little bits and pieces…because it may be a little while before the interview post goes live. but it will be today. i promise! I just have to wait for a shot from Julius at Alliance. My camera battery decided to die half-way through the interview (typical, that)
~ the shirt and skirt that i wore yesterday are from RW & Co. I'm pretty sure it's only in Canada, but i may have just made that up. The boots are from Aldo, but they are about 3 years old.
~ the interview was AMAZING. here's a little sneaky peak of me with the boys, but you're not getting anything else!!! You'll have to check out the full post on Fabulous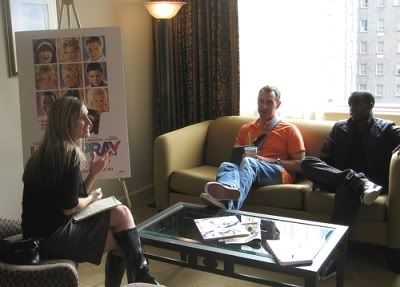 ~ I made two major purchases yesterday, post-interview – a dress for my company's holiday party AND a pair of skinny jeans. SKINNY JEANS, people! i wouldn't have bought them but i got the "homo seal of approval" from my best friend Ryan at Jean Machine. They are Guido and Mary. I'm not 100% sold on them, though.