so, the only thing that Isabella says cuter than her infamous "glubs" (as in "i'm cold, Mommy, can you put on my hat and glubs?") is her newest word….snooger. which, we're guessing, is a snot-and-booger hybrid.
unfortunately for me, asking me to kindly remove the snooger from the end of her finger may have been the only cute thing Isabella did all weekend.
she was a total beast in the car. on the way there. AND on the way back.
she didn't sleep. friday night. or saturday night. i got the pleasure of staying in on saturday night while the husband and his dad took the kids to try to get into the hockey game. Isabella FREAKED. she wanted 'snacks' and alas, i had none. i was in a hotel room. she wanted milk, but again, i had none. i was in a hotel room. she wanted tv that wasn't in French. Poor Bella. She didn't understand that Montreal is another planet and they don't have any english tv other than cnn.
well, she did one other really cute thing on our trip…she loved on her new cousin Keira…(which, if anyone remembers back when i was trying to guess her name…check out my first choice. ahem. totally called it. i'm so good at this game!)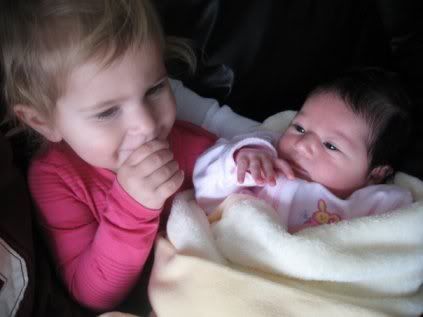 i got to love on her a little bit. definitely not long enough, though. there were too many people. and not enough time. i didn't even get to bite her…which is what i really wanted to do. (We were told that we needed to give her some space. boo.)