i am addicted to victoria's secret v-strings. seriously, y'all. i can't stop buying them. i even make other people buy them for me.
the polka dots. the stripes. the stars. the hearts. the strawberries. the popsicles. the ice cream cones. the guitars. i've even got ones with mushrooms. pink, green, yellow, orange. they are gaudy and a little bit tacky, sure.
but i can't get enough of them.
but, yesterday, i was sporting this new yellow pair
(question of the day: why on earth do they call them a pair of underwear???)
and i was trying to figure out what they said. now, sure, i was looking at the letters all upside-down-like, but i was pretty sure that they said:
LOVE ME
LOVE MY DOG
LOVE PINK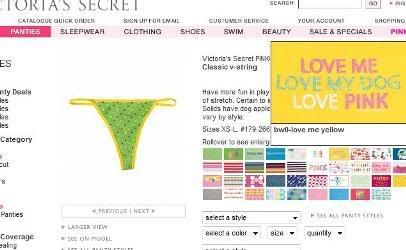 what what what?
what does this even mean??
sure, i get the love me bit. and even the love pink part. (who knew the secret is that Victoria is a huge perv? pink. love pink.)
but the dog part?
love my dog?
i don't even have a dog…

i'm over at UrbanMoms today snogging all sorts of literary characters…ten of them, to be precise, although i'm pretty sure my #7 – aka Prince Charming could be considered more than one…and my #2 – aka Tyler Durden could be considered none…since he was merely a fictional persona created by a fictional person. 
stop by and tell me yours…other than Mr. Darcy, of course, since he's everyone's…
or steal the meme for yourself!