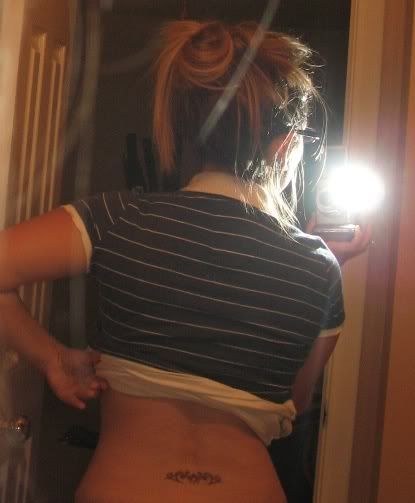 ah…relax….it's certainly not as exciting as is could be. a) it's fake and b) it was done at work. by a co-worker. during the first annual third floor bbq and games jamboree (probably not the official name). i'll admit it…i was a little bit nervous about having 'forced fun' at work. during lunch…when everyone else could watch from inside the cafeteria. and point and laugh. but it was pretty fun! i had a good time! i met some new people and got to hang out with my friends. and unfortunately for my team (the wedgies…huh?) i ring-toss and frisbee throw and break balloons with my ass about as well as i play softball.
and there were cupcakes. how could anything that involves cupcakes possibly be bad?

can you all do me a favor and go and send my good friend haley-o some good wishes?? she's going through something tough right now. some family stuff that she can't talk about on her site. trust me on this one, i've been where she is. twice. and it's awful. and hard. and scary. and sad. and exhausting. she can use some love today.

if you get a chace, come pop over and say hi to me over at my fabulous site. i'm pretty sure that Becca actually being pro-active and actually finishing her book has been a big eye opener to me…and i might finally have the kick in the proverbial balls that i need to get my novel off the c drive and onto the bookshelf.