when i was pregnant with each of my three children, i became obsessed with one kind of food. with Josh, it was frozen yogurt.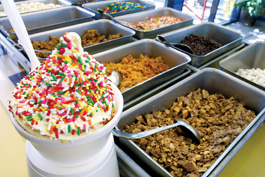 but, oh how i loved it. Not Just Yogurt, my supplier of choice, was just down the road from my condo, and my friend Dikla and i used to drag our toddlers out with us, erm, every day. it worked out well, because we were able to bribe the children (i'm a huge fan of bribery) i was also a big fan of the chocolate and vanilla swirl. cookies and cream. peanut butter cup. irish cream. white chocolate mousse. and don't even get me started on the toppings (cookie dough was my favorite. hands down)
on top of my daily visits, i would buy myself a $20 pie at the beginning of the week, throw it in my freezer, and eat my way through it all week. and no, i didn't share. i am not proud of this. in any way.
and i haven't been able to eat at Not Just Yogurt since Josh was born.
where was i going with this..ah, oh yes… 
last week, i won a free frozen yogurt pie. and then it hit me. i wanted it again. i wanted it right. that. very. minute. it's all i can think about.
(no. i'm very very unpregnant right now. i can assure you of this fact. my mirena and i can assure you of this fact)
so, last night, the husband went to pick one up…while Emily and i sang high school musical karaoke on the wii. whatever, she's ridiculously good and gets a's on every song. and she keeps unlocking outfits and songs. i'm ridiculously bad and get c's. and the songs make me bleed from my ears a little bit. but it's something we do together. and it makes me so happy to see her smile, since she's usually such a miserable teenager-y snot.
and i opened up the pie (that i totally was not planning on sharing) and looked at it for a moment. it didn't look right. at all. but, still, since it's become much like a Ryan-seeing-Taylor-all-sudsy-on-rollerskates- everywhere obsession for me, i went for it. and took a bite.
and. it. was. bad. the crust was soggy, the yogurt tasted like, well, like freezer. ew. the husband's going to take it back. because i don't do things like that. i can't sent food back. i can't take food back. i just can't. it's not in my nature. (my mother doesn't do it either, so i come by it honestly).
but i'm done, i'm afraid. Not Just Yogurt, you've let me down. we are officially in a fight. a fight my ass will probably thank me for when i have to squeeze it into a bikini (who are we kidding…into a tankini) when i go to St. Lucia in March.
come on over and see me at Juice today. It's Hump Day Hearts day over on my entertainment site. it's all about hook-ups and break-ups today.  You don't want to miss it.