as a child of four extra hardworking parents, my siblings and i spent a lot of our childhood with nannies. or grandparents. so many of my memories…driving around town to find my brother the perfect pair of red and black fly skateboard shoes, sitting in the front of the tv watching Jessica McClure's rescue from the well, getting punished for accidentally getting our slime stuck to the popcorn ceiling,
going bowling in the middle of the day…these all were with our nanny, Torita. (i swear, that was her name. and yes, there were many a Dorito reference because we were kids. and kind of assholes)
but, there were times when my professional parents stopped working. vacations. back in the day before cell phones and email. Myrtle Beach. LA. Boston. New York. Bahamas. Israel. San Diego. granted…my dad DID have one of these…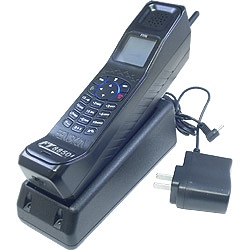 ah, yes, the Zack Morris phone…but thankfully, he didn't bring it on family trips. and holidays. it's Chrismukah with my dad and stepmom, and it's Passover with my Mom and stepdad.
as a kid, i loved Passover. My parents were home. I got new clothes. I got to SING in front of people (dear god, how i loved that. shit. Emily is ME). I got to drink four cups of wine grape juice (even back then i enjoyed the sauce). The food was always amazing. chicken soup with matzo balls (we ONLY got matzo balls on Pesach) we got to stay up late. 11, 12, 1am! we got presents for finding or stealing the precious afikomen. bikes, toys, whatever we wanted, we bargained for it (although my little brother still didn't ever get his trip to see McHale's Navy with my stepdad. and we still bring it up. every year) these were great times for me and my sister, who usually had to be excused from the table to control our laughing fits.
these were the times to remember (oh, come on, try to pretend you don't know that song…) (and that you aren't singing it in your head right now.) (old school Billy Joel. rawk on)
but now that i am an adult, Passover really is just a giant pain in the ass. the cleaning. the cooking. the guests. the crumbs (seriously, nothing makes more crumbs than matzah). the food…SUCKS. i mean, yes, i get the whole, "not eating bread for a week" deal…but coffee? why does coffee have to be kosher for passover? really? was that REALLY god's intention when this holiday was thought out. "the Jews left Egypt in such haste that they didn't have time to let their bread rise…and surely they didn't have time to stop at Tim Horton's…so no bread for you! and no Tim Horton's! or Starbucks! or Second Cup!"
and a dishwasher? i mean, come on, there weren't dishwashers back then. and did you know that you have to SELL the contents of your house? and then buy it back after Passover is over? what? seriously? if i'm selling it anyway, why do i have to clean it? okay, also…they make kosher for passover paper goods.
i like the traditions of the holiday. i love seeing what my kids bring home from school. i love having Isabella show me her ten plagues project "Mommy, he had froggies in his HAIR! in. his. hair!" I love hearing Josh sing his seder plate song…"The Marror tastes miserable, because the Jews were slaves and they were miserable!" (his teacher is a total poet. who knew that miserable and miserable rhymed?!)
i like getting together with friends and family. and i like to eat. and i still like to be forced to drink 4 cups of wine. and i like giving my kids that chance to have total mommy and daddy time. because i know i longed for it as a kid. and i'm sure they long for it too.
it would just be a whole lot nicer if it didn't have so many rules…;)