have any of you ever taken your empties back to MAC? i finished an eye shadow this morning and it was about to go under my bathroom counter to go and live with the 85,000 empty lipsticks, shadows, blushes i've been keeping and have never taken back (or thrown away either. hi, i'm ali. i'm a HOARDER) . so..how does it work? what can you take back? what can't you? and what do you get? lipstick? i could use a new 'plum dandy'
Last night we had friends over for dinner. right before they arrived, Josh appeared for dinner wearing his Brett Favre jersey. and a necklace. a red and white candy cane necklace. i pretty much died. on the spot. (where does such a thing even come from?)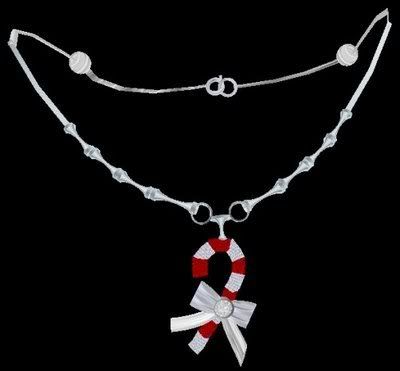 and when i asked him for the necklace kindly, he said:
"i have a sticker for you. you can put it on your boob."
"That's nice, hon. Can i have the necklace?"
"Emily's almost a lady."
"huh?"
"Her boobies are growing!"
"necklace please?"
"pretty soon they will look like yours."
"thanks, Josh. necklace?"
i SO wish i was making this up.
one of the drawbacks to having emetophobia is that sometimes you just can't barf. we train our brains to train our bodies to everything but barf. so, last night, while a normal person would have gone into the bathroom, said hello to the inside of the toilet and gone to bed…i sat in the bathroom, on the edge of my tub, listening to American Idol (hello, David Archuletta! hello, Michael Johns! hello, David Cook! three best, by far!), with a nasty case of the shakes, trying to throw up. and i didn't. i couldn't. so, at 9:00, after i wasted an hour of my time, realized it wasn't going to happen, and carried my nauseated self back to bed. and watched Big Brother. James cries. Sharon cries. Joshuah cries. shall we rename this show Big Baby?
(ps. if you ever wanted to know what BB slop is…it's Bill Pearl's high protein oatmeal…i'm fairly certain i could have barfed last night had i been eating some slop..)
i don't know if y'all know Emily. not MY Emily, this one. Well, Emily has friends, Brian and Katie. and they have a daughter named Emily. and she's hurting. she's hurting so bad. she's 16 months old. and she has cancer. and she's in my thoughts today. please keep her in yours. life is so precious.