i can't remember the last time i had homework. sure, i often take work home with me. and sometimes i have things to do, like read my sexy exy book…A Certain Slant of Light (which i plowed through, by the way, such a great read). and most nights i spend hours time helping Emily with her homework. but this was different.
he told me that he'd know if i didn't do it. suddenly i was having flashbacks of my scary nazi piano teacher, Mr. Kahn. he also knew when i didn't practice. (nightmares, people! nightmares!)
but you know when a man who has spent the last 12 years working with the Detroit Red Wings tells you "wow! i haven't seen a tendinitis** THAT bad in YEARS!" that he means business. also, that you are in trouble (also, that you are a tool for not getting this taken care of sooner)
and you should also know that when he says, "i'll take you into my office and shut the door so no one else hears your screams" he was. not. joking.
holy ouch.
holy motherfucking ouch.
it's going to hurt to make it better, right?
so, last night was spent watching copious amounts of high-quality tv…read: One Tree Hill and The Bachelor…and doing my homework…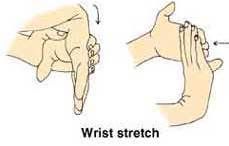 and
wrist ice. which i did, using a bag of frozen french fries.
in the end i was left with a frozen painful wrist. and a strong, strong craving for french fries. mmm..french fries…
i was never this good to Mr. Kahn.
**seriously, why is tendinitis spelling this way. why is it not tendOnitis? isn't it an inflammation of the tendon? oh, it seems i'm more of a tool than i thought…it's spelled both ways. (i'll have you know, i'm a really good speller. i placed 7th in the Wisconsin state spelling bee. twice.)
come visit me over at Juice today.  i'm having a movie give-away contest. tell me your favorite book-made-into-movie and you can win!!