when my mother's in town, i become an emotional eater. i hate to grab something straight from the Oprah playbook…but it's the truth.
i suppose it comes down to two facts.
fact #1: my mom is a 'food pusher'. like every other Jewish mother, there's something in her genes that makes her want to FEED people. i suffer from this too.
fact #2: my mom has always and will always think that i have an eating disorder. even when i was in israel and had gained 29 pounds in four months (this is NOT an exaggeration. i gained more weight in israel than i did through any of my entire pregnancies) eating nothing but bread and pastries…her first words off the plane were "you look thin. aren't they feeding you?"
so…it doesn't help when my mom comes to town and goes shopping and buys donuts and pies and cookies and tarts and more cookies. AND then there's the issue of this: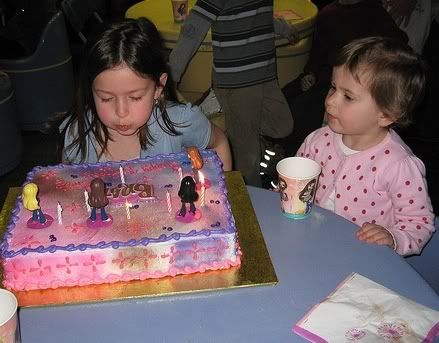 you see that Bratz cake? 1/2 of it sits in my kitchen. calling to me.
[read: ali gains 5 pounds in 3 days. no joke. 2 pounds more than i gained in a WEEK in st. lucia]
most people like fancy or decadent desserts. made with fruit. or chocolate. or cream. not i. i have taste like a 6-year-old. i like the grocery store sheet cake made with shortening-tasting icing.  i know, it's sad, really. i went into a bakery in NYC with my sister and didn't find ONE thing that i wanted to eat. i guess Italian bakeries don't know how to bake for toddlers
yes…that's right. it's been a busy week for us. Emily's play was a success. and now damnit if i can't get 'somewhere over the rainbow' out of my head.  Emily's birthday party was a success. bratz plates. bratz cups. bratz napkins. bratz loot bags (and yes, i may be a last-minute kind of mom at getting ready for a party [read: ali buys loot bags on friday for a sunday party]…but i made 24 first graders really happy with their tomagatchi loot bags) if i never see anything bratz again it will be too soon.