my eyes are tired today. combination of two things, likely. the first, not my fault, and the second, entirely my fault. it was a jam-packed weekend, as usual. and i haven't changed my two-week disposable contacts, since, um, October 30th. (shh. please don't tell my eye doctor. he'd murder me)
took the two younger bunnies over to Haley-O's so i could spend some time kissing babies. love. instead, it was my son, not hers, getting the most attention.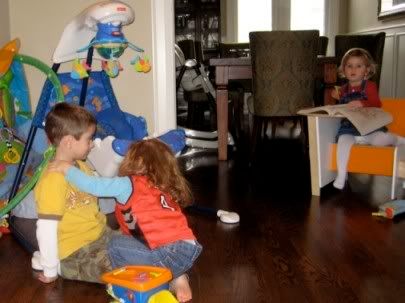 Haley's monkey took a liking to my Josh. for the entire time we were there. ps. every time i take her to the O's…Isabella pops a squat on that chair. and doesn't move. for hours. one day these girls will actually play together
It started snowing on Saturday evening. and snowed and snowed and snowed. and it was still snowing on Sunday morning. The radio said it was the kind of day that you should stay inside if you can.
well, guess who couldn't?
Emily and i needed to be at Famous Players at 8:45 in the morning for the [insert company name here] Children's Christmas Party. (well, truth be told, there isn't much partying happening. it was a screening of Enchanted). So, after 40 minutes of shoveling (not me, of course. i don't shovel.) i forced the husband to drive us there. yes, i'm scared to drive the civic. i've said it before, i'll say it again. need. snow. tires.
Enchanted was, well, kind of really good, actually. surprisingly. I mean, sure, it was pure cheese. and sure, i spent a good portion of the time watching McDreamy's hair change each time the camera focused on him. puffy-not puffy-parted-not parted. and sure, i had to listen to Emily go on and on and on about how incrediblyamazingandawesome it was that the Prince WAS Corny Collins. and sure, i was on the lookout for Enchanted's hidden 'fuck'

(i'm holding with the f-bomb, by the by. it was NOT bus that he said. i'm sure of it)
but i enjoyed it. a lot.
add in a trip to chuck e. cheese (we are regulars now). two birthday parties. a playdate. and a night out with the usuals and you've got a thoroughly busy, but kind of great, weekend.
although i do have to admit to being glad to be going to work today…i need a break!